Practice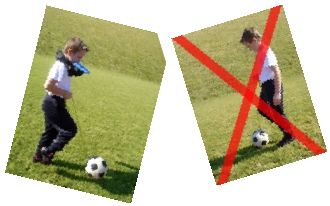 IN PRACTICE
The HEADS UP METHODSystem (KHMS) was devised to perfect ball handling
with the feet and make it second nature.
KHMS helps you make it possible to playfully correct ball handling, awarenessand orientation.

Because of the restricted field of vision with KHMS,
players are forced to handle the ball with their feet without depending
on the eye-to-feet contact they are used to.

This means that KHMS lets players use the skills they've acquired
like purposefully grasping the game situation, concentrating on ball handlingand keeping track of the game.
Players can recall these skills with self-confidence and put them to use.

The KHMS has reached its goal as a means of training once the players
can use what they have learned in an actual game by removing their eyes from the ball.
This requires patience along with consistent, frequent practice.

There is no need for a special training program with the KHMS.
Practice in the football techniques of ball handling in motion (on the ground or down low)
are the most goal-oriented kinds of training.

If kids are having problems handling the ball they should begin with the
Kre-Go BASIC FOOTBALL TECHNIQUE SYSTEM with the HEADS UP METHOD.
This combination means that fault ball handling techniques are playfully phased out,
replaced by the right techniques to be then trained and built up!
play - play
game to overview!

The Kre-Go BASIC FOOTBALL TECHNIQUE SYSTEM Combination should be used
in both individual training and in small groups,
and is highly-recommended to be practiced at home, too.
"Making what you've learned second nature"
Kre~Go Method